Pittsburgh Area Heated Driveways and Snow Melting Systems
Industry Leading Systems ● Local Installer Network ● Free Installation Training ● Unmatched Customer Service
With an annual snowfall of about 41 inches, Pittsburgh residents are very familiar with the winter routine of shoveling snow from driveways and sidewalks. But shoveling snow doesn't have to be an annual chore.
Warmzone has been providing Pittsburgh area residents with radiant heated driveways and snow melting systems for over a decade. With a selection of the industry's most trusted radiant heat products, coupled with unparalleled customer services, Pittsburgh construction professionals have come to trust Warmzone and its line of snow melting, roof deicing and floor heating solutions.
In addition to eliminating the need for manual snow removal, radiant snow melting systems provide considerable benefits for home and business owners. Warmzone systems are fully automated so whenever a snowstorm hits, you can be assured that the sidewalks, driveway or parking area will remain clear of snow and ice. This is music to the ears of business owners who often find themselves on the sour end of personal injury lawsuits from slip and fall accidents.

During snowstorms business owners not only have to divert money, time, and employees for snow removal duties, but they often have to do so repeatedly at odd hours to ensure that the walks are maintained for the safety of their customers. Safety is priority number one as businesses strive to avoid litigation related to slip-and-fall accidents. With automated snow melting systems there's no worry.
Automated snow systems utilize heat cable, an activation device/snow sensor and a controller. When the snow sensor detects precipitation and the temperature is below the adjustable set point, it signals the controller (which is usually mounted on a wall in the garage). The controller then sends power to the heating cable that is embedded in the concrete, asphalt or pavers to warm the driveway and prevent any snow from building up.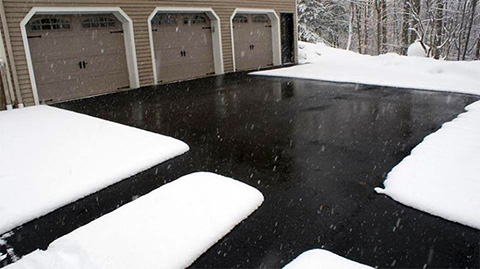 Warmzone is an industry leader in radiant heat solutions, not only for its line of proven products, but because of its commitment and proven track record of superior customer service. Each snow melting system is custom designed by experienced professionals who understand the demands of Pittsburgh winters. In addition to the detailed design and layout of the system, Warmzone also includes free installation training and installation support services. Our goal is to ensure that the radiant heat system is installed correctly and customers are happy.
Roof Deicing
Warmzone also provides proven roof heating solutions. Self-regulating heat trace cable can be installed in roof gutters and downspouts to prevent damage to gutters and facilitate runoff. Thin heating panels can also be installed discreetly under roof shingles or metal roofs to keep roof edges and valleys clear of ice dams and snow. Warmzone has been designing roof heating systems for almost two decades, so we understand what it takes to design and install an efficient and effective roof deicing solution for homes as well as large commercial buildings. Contact a roof heating expert today at 888.488.9276.
Floor Heating
As a long time supplier of radiant floor heating systems, Warmzone offers one of the largest selections of the industry's most trusted systems that you'll find. From industry leading heating cable and mats to floor heating insulation panels and paper thin heating elements, Warmzone carries all the proven systems to best heat the specific floor type for each application. Contact a floor heating expert today at 888.488.9276.