Pittsburgh Radiant Floor Heating Systems
Give Your Home Luxurious Warmth and Unparalleled Heating Efficiency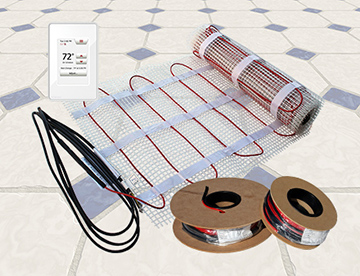 Sometimes keeping the home at a comfortable temperature during the Pittsburgh winter can be a challenge. Traditional forced-air systems can warm a home, but the systems are notoriously inefficient. Hot air blows from the registers and collects up at the ceiling before cooling and dropping down. And while adults may deem the house to be warm enough, kids – who often play on the floor – might not feel so warm.
Hot air blowing through vents can also blow dust and allergens throughout the home. This makes dusting a necessary weekly chore, not to mention how this affects people with allergies or sensitive respiratory systems.
Have you considered installing radiant heated floors? Radiant heat is fast becoming the home heating solution of choice throughout the country - and for good reason. Radiant floor heating systems are the single most efficient heating systems available. And the luxurious warmth they offer must truly be experienced to be fully appreciated.
Most floor heating systems utilize a thin heating cable embedded in the floor. ComfortTile is Warmzone's most popular floor heating solution, but we also carry one of the largest selections available. Each of our systems is designed to provide the best results for specific floor types. Many systems can be used for a variety of flooring, still some systems are better than others for heating certain applications.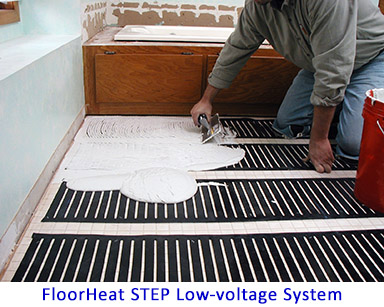 Since Warmzone offers such a wide range of floor heating options, customers are assured to find the system that will best meet their floor heating needs. And our consultants are not locked in to only recommending one or two systems. Call us today and we'll gladly explain all the options and benefits to you, without any irritating sales pressure.
In addition to offering vast selections of proven, trusted radiant heat systems, Warmzone offers what is likely the best and most comprehensive customer service in the business. Because the proper installation of radiant heat systems is so crucial, we offer free installation training for installers. We don't just sell systems and components, we stay with your installer throughout the process to help ensure that the system is installed correctly and the customer is satisfied. As such, we also include free installation support services, so your installer can call and speak to an electrical expert or design pro any time. We also offer a wealth of instructional videos online and a vast library of product documentation, including installation manuals, technical guides, data sheets, illustrations, and more.
Call 888.488.9276 today to learn more about radiant floor heat and what options are best for you.